Mildred C. Hanson, SIOR Memorial Scholarship
Mildred C. Hanson, SIOR Memorial Scholarship
Established in 2008, the Mildred C. Hanson, SIOR Memorial Fund generously instituted an educational scholarship program intended to encourage and assist qualified female students in obtaining an education that will lead them into productive careers in the commercial real estate industry.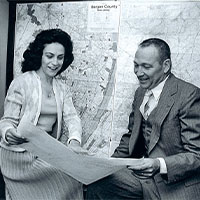 Mildred C. (Millie) Hanson, SIOR was a specialist in office and industrial sales and leasing and was one of the first women to earn the SIOR (Specialist, Industrial and Office REALTOR) designation. Millie served as President of both the SIOR New Jersey Chapter and the Industrial and Office Brokers Association of the New York Metropolitan Area. Millie was named the Top Sales Associate of 2005 and 2006 for NAI James Hanson Real Estate, Hackensack, New Jersey. During her 34-year career, she brokered deals valued at more than $800 million.,
In 2023, the "Millie Fund" will grant two $8,000 scholarships to one outstanding junior or senior undergraduate female student and one graduate female student enrolled in an accredited real estate, business, or finance program at a college or university in the United States or Canada who intends to pursue a career in commercial real estate.
The deadline for submissions is 5:00 PM EDT, Friday, November 3, 2023.
Download 2023 Mildred Hanson Scholarship Form (PDF)
Previous Recipients
Chloe Heiligenstein, 2019
Madeline Glosemeyer, Virginia Richards, 2018
Emily Weiland, 2017
Ivey Kelly, Lara Kiefer, Skyler Lisk Wilson, 2016
Marisa Banuelos, Anastasiya Pidhayna, 2015
Nicole Caithness, Stephanie Dobbs, Melissa Gauger, 2014
Diana Saldana, Emily Weissert, 2013
Jillian Woodliff, 2012
Alyssa Coughlin, Marcy Motes, 2011
Briana Dunne, 2010
Ariel Ball, 2009